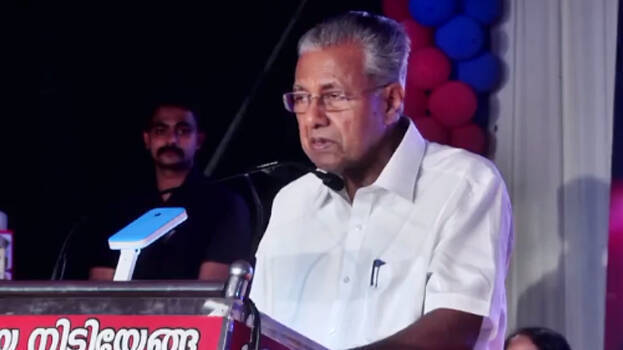 KANNUR: Chief Minister Pinarayi Vijayan said that the Nava Kerala Sadas cannot be belittled by showing black flags. He also alleged that there was an ulterior agenda behind the black flag protest staged by the Youth Congress in Pazhayangadi. He urged the CPM workers not to get provoked by this and not to create an opportunity for those attempting to malign the Nava Kerala Sadas.
"The intention of those who waved the black flag is different. A young man and a young man jumped in front of the bus as we approached Thaliparamba. What happens if the mob attacks the protesters? Those standing by the road kept their composure. Those who showed the black flag were arrested and moved by the police. Those with an ulterior agenda are coming up with protest. We should not be provoked by this," the CM said.
The Youth Congress workers waved black flags towards the special bus carrying the Chief Minister when the bus reached near the Pazhayangadi police station in the Kalliasseri constituency. Following this, the CPM workers present in the area attacked the Youth Congress workers. Seven Youth Congress workers, including Youth Congress District Vice President Mahita Mohan, were injured in the clash. While the police were moving the protestors, CPM and DYFI workers reached the spot and attacked the Youth Congress workers.