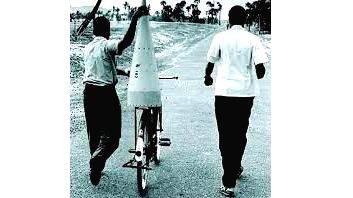 THIRUVANANTHAPURAM: India celebrates 60 years of launching the Nike Apache, also known as Argo B-13 rocket from Thumba on Tuesday. This launch heralded a modest start to India's space programme. On November 21, 1963, the country's first sounding rocket took off from the Mary Magdalene Catholic Church in the fishing village of Thumba.
The American-made 'Nike Apache' rocket took off from the rocket launch pad built here. Interestingly enough, the first rocket was assembled in front of the church altar. The nearby Bishop's House soon became the launch centre director's office. The launch pad was in the coconut grove in front of the church. The nearby primary school building was first converted into a launch office and later as a technical library. An old cattle shed became India's first space lab which was controlled by former president APJ Abdul Kalam.
Thumba is unique for its geographic features as it is the place where the magnetic field of the earth passes. It later came to be known as the 'Thumba Equatorial Rocket Launching Station'. Thumba later became the Vikram Sarabhai Space Centre and has turned into ISRO's largest centre in the country.
During the launch time, the Christian religious leaders supported the mission earnestly. And now, the world can only gape in awe seeing how India transformed from its modest beginnings to reach the crescendo of success including the latest historic success with the lunar probe.
Today marks the anniversary of the first launch but the celebration is scheduled for the 25th. Union Space Minister Jitendra Singh and ISRO Chairman S. Somanath will reach Thumba. About 300 erstwhile scientists and workers will be honoured at the function.