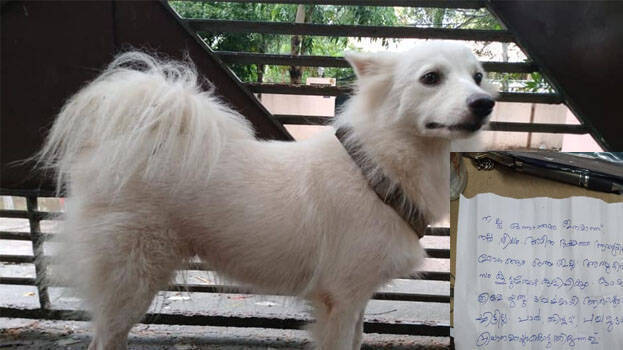 Usually, unscrupulous pet owners come out with silly reasons for ditching their loving pets in some deserted corners or roadsides. But, the owner who abandoned a cute female Pomeranian the other day seems to be a cranky person at the threshold of insanity.
The dog was found abandoned and tied to the gate of the World Market at Anayara in Thiruvananthapuram by a couple on Sunday night. They informed People For Animals, a charity organisation that is engaged in rescuing, treating, rehabilitating injured and abandoned dogs.

Shameem Faruque, a PFA volunteer, soon arrived at the spot, managed to win the pom's heart after a bit of caressing, feeding and brought the furry being to her house at Anayara. The real twist in the story was when she noticed something tied to the doggie's collar. It was a piece of paper enclosed in a plastic sachet and tied to her collar. She took it out and was startled to see the note (probably from the owner) that explained the reason for abandoning the dog.

"This is a good breed. Good habits, Excess food is not needed. She has no disease. She is given a bath once in five days. She just barks. Over the past three years, she has not bitten anybody. Mostly she was fed with milk, biscuit and raw egg. NOW WE HAVE ABANDONED HER AFTER SHE HAD AN ILLICIT RELATIONSHIP WITH A NEARBY DOG!" says the note.
Shameem, who already owns four dogs, has now given the pom a temporary shelter. She is looking for a good and genuine adopter for her new guest. But, she would be more than happy to see that dumb owner so that she could instill some sense in him or her. "Such people who abandon dogs are a menace to society. Moreover, the reason given for abandoning this beauty shows certain human beings' utter nonsense and insensitivity, given the fact that there is always the option to sterilise the female dog," she says.

Coming to know about the incident, animal activist and writer Sreedevi S Karta took to Facebook to lambast the owner of the dog. "I feel very anxious about the children in the family of the person who wrote this note. The person, who has spurned the natural behaviour of a humble dog as adultery, appears to be a moral fanatic… What would be the fate of his children If they ever dare to have an affair with anyone; he will even endanger their lives…Hey, if you find any legal relationship between dogs, come…we can solve your 'illicit relationship issue' by arranging a marriage for your dog after horoscope-matching and making a settlement on dowry…thus you can get some peace of mind… "

Making a request to share her post, Sreedevi adds that the PFA volunteers are working hard to trace the owner and those who identify the dog may contact 9567437063.

When contacted, Shameem said that the dog is fine and eating well. "She gets into the kennel as if she is used to it. But, whenever she is let out, she runs to the gate. Standing there, she eagerly stares at each vehicle passing by. It seems she is expecting someone, perhaps her ruthless owner..."