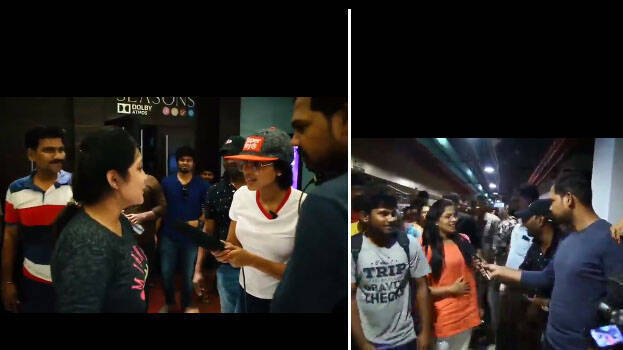 Aadai is a controversy-ridden Tamil film starring Amala Paul and directed by Ratnakumar. The film, packed with some bold scenes of the Tamil actress, is running to packed audiences in theatres all over the world.

The actress herself descended on a theatre the other day to get the responses of the movie watchers.

Wearing a cap, dressed in a T-shirt and jeans, Amala can be seen posing as a TV reporter. She has also cropped her hair and worn a designer eyeglass

Amala quizzes the people who come out of the theatre after watching the film. However, only very few identify her. The video is already a hit on social media.

Some can be seen extolling Amala without recognising her. The main question posed was "Can the film Addai watched by one along with his or her family?" All the viewers answered with an emphatic "yes". Some even said that it is a must-watch film and hugged Amala.

Director Ratnakumar and actors Rohit and Gopi can also be seen with Amala Paul.
Watch video: