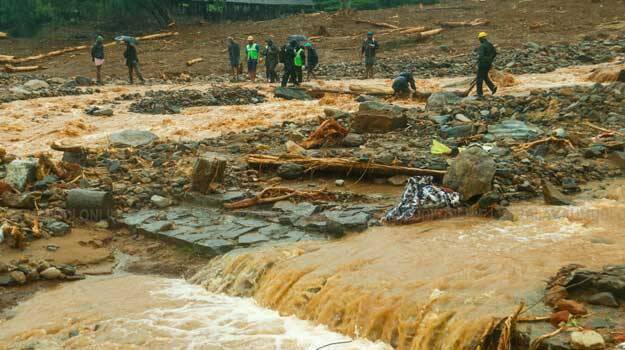 KOTTAYAM: As Kerala was slowly getting over the losses inflicted by last year's massive floods, came again the tragedy in the form of floods, landslides, thunderstorms and cloudbursts last week; the nature's fury have killed more than 80 people Wayanad and other parts of North Kerala.

Now, where have these recent landslides occured? They have occured at the same place categorised as Ecologically Sensitive Area (ESA) by the Gadgil Committee, long back.

When the Left and Right parties, eying vote bank, joined hands to protect those who had encroached forest lands, Gadgil report went into dustbin. They brought Kasturrangan to counter Gadgil but when he also upheld the Gadgil report, he also became politicians' persona non grata. Next they brought Ommen V Ommen, who came up with a kind of tailor-made report favourable to all stakeholders, irrespective of the colour of their parties' flags.

The area of NEAs decreased thus. Then it was like quarries could function almost anywhere in that area, any hill or forest could be razed and one could build resorts anywhere. Soon JCBs, torres tipper and lorries rattled the topography in this part. The recent floods and landslides in this area are seen as an after-effect of unscientific human activity.
When the calamity revisited Wayanad, politicians as well as the stakeholders started murmuring, "Call Gadgil and save Kerala".
The two floods in consecutive years prove that natural calamities happen when man starts exploiting the nature. People start thinking about this only when tragedies repeat.

After the landslides in Wayanad, many locals have come out to testify that JCBs had ploughed through the land spanning one acre where landslides occurred a few days ago. Despite their opposition, this was done to prepare it for planting rubber and plantains. Unscientific expansion of the area for making it a tourist spot was another reason for deluge in Wayanad.
Now, take the case of Kotayam. According to its topography, east of Kottayam is hilly area and the west is dotted with backwaters.
Rain water flowing from hills and mountains ended up in the sea via the backwaters. In the past when there was nothing to block this free flow of water, there used to be no floods or landslides in Kottayam.

But now, the situation has all changed. Due to construction activities and increasing human settlements, the free flow has been disrupted, resulting in Kottalayam getting inundated very fast during heavy rains.

Even from their flooded homes and hometowns, the complaints such as "here they didn't give us anything, here we didn't get anything" were heard aloud from people, who were yet to receive last year's flood relief funds.

However, there were also some rich people, who managed to pocket Rs 10,000, citing the reason that water had entered their house premises.