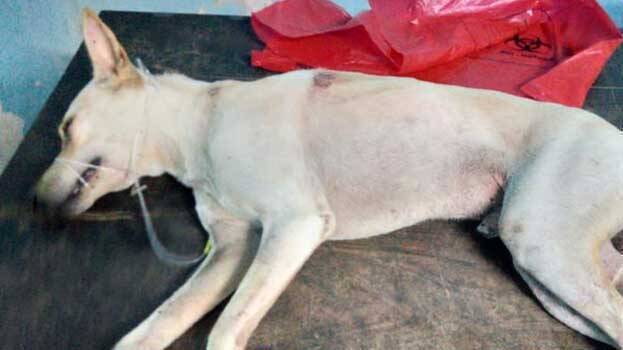 THIRUVANANTHAPURAM: Close on the heels of the news about mass gunning down of street dogs in Shoranur has come another similar shocking news from Thiruvananthapuram. It is the story of a street dog that was lying at Poojappura Chadiyara residential lane with wounds, "caused by the bullets fired from air gun".

Animal activist and writer Sreedevi S Kartha vehemently writes about the incident on her Facebook page. She also gives an update on the current condition of the dog.

"On getting a telephone call on Wednesday morning , PFA (People For Animal) rescue team reached the spot to find the dog writhing in pain. The team immediately took the dog to PMG veterinary hospital. In the X-ray, three bullets were found inside his body. Later he was shifted to PFA's clinic in Valiyarathala. Out of the three pellets only one could be taken out in the surgery that was performed today (Thrusday). The others are in dangerous locations.

The fact that the dog had been starving for several days also was a challenge for the surgery.

Last month also similar attack was waged against some harmless dogs. What was more shocking was that, according to an informer, a person seen on his Activa scooter with a child on his front has been committing this crime. However, the police have filed a case and investigation is going on…"
Meanwhile, the police later said the incident smacked of mystery. They are trying to find out tthe shooter(s) behind the criminal act..