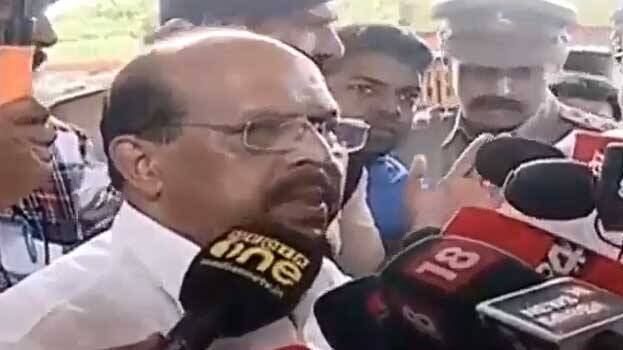 KOCHI: PWD Minister G Sudhakaran said on Saturday that his department need not be blamed for hours-long terrible traffic jam on Ernakulam Edapally-Aroor bypass near Kundannoor bridge.

"The PWD can only build road and bridge and it is the responsibility of the district collector and the district police chief to control the traffic on these roads. We except the works of Kundannoor flyover to be completed within seven months. Till then all should cooperate with us," he said.

The Minister said the government had sanctioned Rs 7 crore urgently for the repair works of roads that had developed potholes in the recent rains.

He was reacting to media persons' questions after examining places where the construction works of Kundannoor flyover is going on.
"Some are spreading lies that all roads in the State are in dilapidated condition. This is not true. Only a portion of 45 roads in Kochi is in bad shape. Instrucitons have been goven to repair them on urgent basis. For filling pothotels on roads there is no need for the supervision of engineers. Anyone can do it and that is why enginneers were not sent for filling pits on roads," the minister said.
Meanwhile, the traffic police have deployed 80 policemen to ease traffic jam along Vyttila-
Kundnnor route.

There are 60 policemen at Kundnnoor and 20 at Vyttila.On Saturday morning policemen themselves took up the responsibility of filling the pits on roads.

What doubles the traffic woes in the area is the bad condition of service roads, which the people had to take resoort in as the constrcution works of Kundannoor, Vyttila flyovers are going on.

As the roads to Thevara and Marad from Kundannoor have been closed, people going to this places have to take detour via Vyttila Aroor NH road.