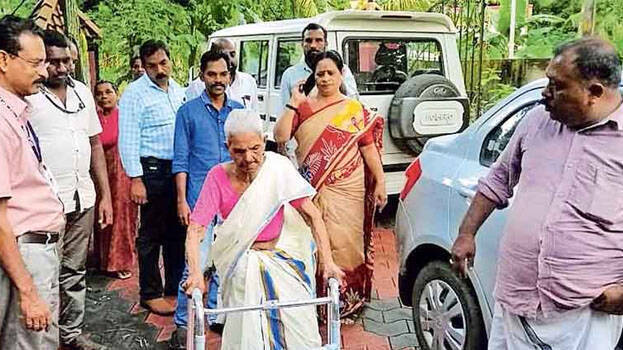 MAVELIKKARA: In a blessed moment, an old woman who was long ago dumped in an oldage by her NRI son, was brought to the home of her younger son on Friday. But, for this loving son, it was not an easy task as he had to do a marathon search to find out her mother and fight a virutal legal battle to get the permission to take his mother to his home.

It was the late Thazhakkara Eravankara resident Raghavan's wife Bhargaviyamma (93) who was lodged in the an old age home at Karunagapally by her son who is working abroad.

None of the relatives knew about the wherabouts of Bhargaviyamma as the son didn't keep any contact with them. Vinay Babu, the younger son and Eravankara Chaithram house resident, came to know about her mother only through his friend but even then he didn't get any information on the oldage home where his mother is.

Vinay Babu went in search of his mother from one old age home to another but nowehre could he find her. But, one and a half months ago, by mere coincidence, Vinay Babu's neigbour visited the old age home in Karunagapally and bumped into Bhargavy Amma. Soon they informed Vinay Babu, who arrived soon after to take her to his home.

But the son had to complete certain legal formaltiies before he could take her mother home and this took about one and a half month.
On Friday evening, Bhargavy Amma was allowed to go with her son in the presence of Chengannur RDO G Usha Kumari, Mavelikkara Tahasildar S Santhosh Kumar and others.