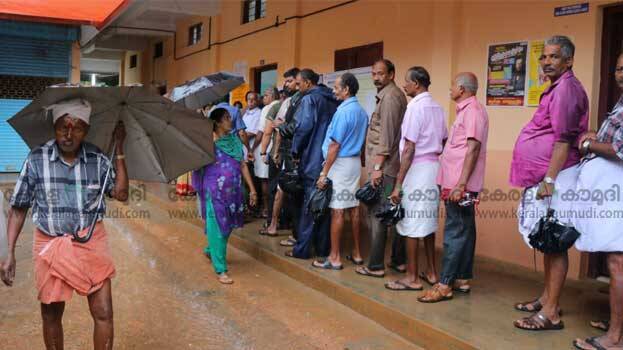 THIRUVANANTHAPURAM/KOCHI: A low turnout is being witnessed in all polling booths after heavy rains soaked the five assembly constituencies where by-polls started at 7 am. There are heavy rains in four constituencies except Manjeshwaram. Some polling booths have been replaced in Ernakulam due to water logging and lack of light. All the fronts are worried due to the low turnout. The activists are trying to bring voters to polling booths before noon. Not even one of the booths in Ernakulam is currently busy.
Meantime, Chief Election Officer Teeka Tam Meena said there was no need for the postponement of elections. After reviewing the rains for the next couple of hours, will consider whether to postpone the election or not. Meena said he spoke to district collector and a decision will be taken whether to postpone the polls after considering the reports of district collectors. However, polls will be extended till night.
There is tight security in all booths. While the by-poll to Manjeswaram constituency was necessitated by the death of UDF legislator P B Abdul Razack, the four other constituencies like Vattiyoorkavu, Konni, Aroor and Ernakulam were vacated after K Muraleedharan, Adoor Prakash, A M Arif and Hibi Eden won the Lok Sabha polls.

Among the five constituencies, Manjeshwaram is the most populated with 2.14 voters. While Ernakulam has 1.55 voters, Aroor has 1.91 voters. The number of voters in Konni and Vattiyoorkkavu are 1.98 lakhs and 1.97 lakhs respectively. Amost 5225 officials have been assigned to conduct the election. It must be noted that all the constituencies except Aroor are the sitting seats of UDF. Aroor is the sitting seat of LDF. Meanwhile, the strengthening of the rains is expected to cause a major impact on voting numbers.