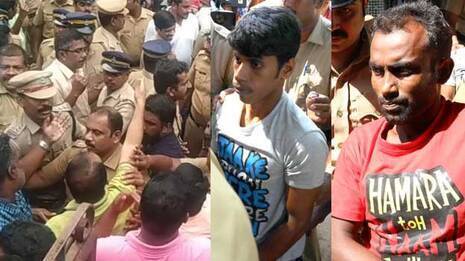 MANNAR: In the case in which an old couple was killed in cold blood, two migrant workers, who are the accused in the case, narrated to the police how they had killed the old man and his wife.

Jewel had killed Cheriyan and Lablu had killed Lilly. In a detailed questioning on Friday, they revealed how they committed the crime. The accused were produced in the court on Saturday. Since the accused are natives of Bangladesh, the Ministry of External Affairs will also be informed about the case.
The crime was committed on November 11 afternoon. It was raining heavily then. Jewel asked Cheriyan for a digging bar to remove roots at the bottom of coconut trees. As the old man walked towards the store room to take it, Jewel Hassan (22) silently followed him, grabbed the digging bar from him and smashed the backside of his head. His voice got drowned in the chattering sound of the rain.
Meanwhile, Lablu Hassan (36) took a hoe from the store room, went into the kitchen and asked Lilly for drinking water. When she turned back to get water, he struck the backside of her head repeatedly. Her loud cry also could not be heard outside due to rain.
They washed their blood smeared hands, took cash and ornaments kept inside the house and fled for Chengannur railway station, half kilometres away from the crime spot. They boarded the Chennai Mail in the evening and changed their blood-soaked shirts on the train.
According to the police, Lablu Hassan has wife and two children. The accused had committed the crime after a good planning. They had reached Venmani for work only ten days ago.

They fled the crime scene after abandoning the weapon used for murder near the bodies. The photo used in the lookout notice by the police were from the selfiies taken by the accused with their co-workers.