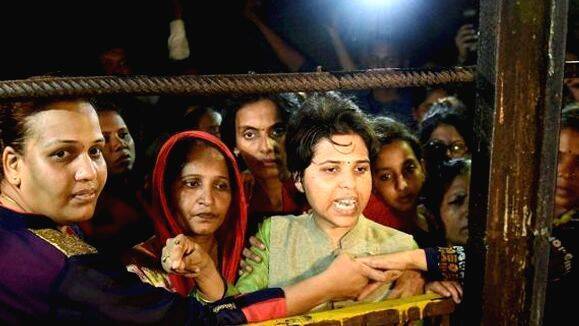 PATHANAMTHITTA: As per indications, Bhumata Brigade leader Trupti Desai and activist Bindu Ammini made another attempt at Sabarimala trekking under the guidance of the extremist left organization CPI (ML) Redstar. The activists were following the plans of the organization in order to sabotage the pilgrimage, it is learnt.
Bindu Ammini is a native of Poonkavu in Pathanamthitta. She was a law student in Kozhikode and her husband was a main activist of Redstar in Kozhikode. Her visit to Sabarimala last season was based on the organization's decision. Redflag had appreciated Bindu and Kanakadurga back then.
Trupti made an attempt to trek Sabarimala last season also turned back after protests. This time, she tried to implement the plans with the company of Bindu Ammini, it is said.
Sabarimala pilgrimage is moving on smoothly this time with the temple income almost doubling. There are checks in place at Pamba and Nilakkal to stop women between the ages of 10 and 50. The police stopped Tamil Nadu native Usha, aged 39, in Nilakkal on Tuesday.