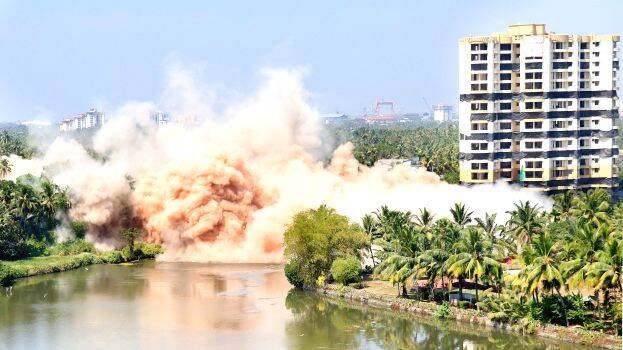 KOCHI: The district administration has said the first phase demolition of the illegal flats in Maradu was carried out successfully. The district collector of Ernakulam, S. Suhas, said that a part of debris falling into the lake was part of the plan.
"There are no casualties or damages to the surrounding buildings. Everything was carried out as per the plan. The first demolition that of H2O went down like it was meant to. The implosion of Alfa twin towers was planned in such a way that some part of the debris falls into the lake to avoid damages to the surrounding houses and constructions", Suhas said.
The police commissioner Vijay Sakhare said there wasn't any significant damages. Small damages were expected but the actual damage was below one percent, he said.
The implosion at Alfa twin towers was carried out 28 minutes after the demolition of H2O. Damages of buildings or houses weren't reported here.