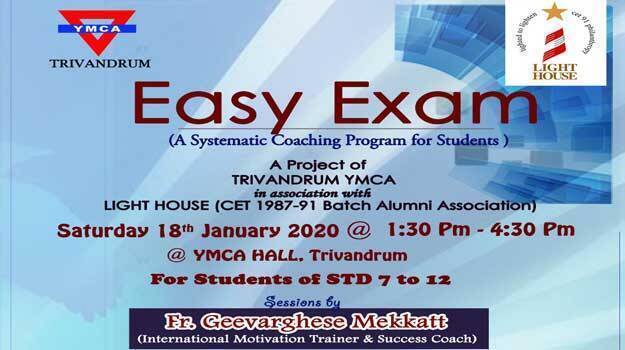 THIRUVANANTHAPURAM: Easy Exam, a free systematic coaching programme for school students will be held on January 18 at YMCA hall in Thiruvananthapuram. The project is a joint venture of Thiruvananthapuram YMCA HI-Y Programmes and College of Engineering 1987-91 batch alumni association- Light House.

The programme will be held from 1:30 pm to 5 pm.

Students from Standard 7 to Plus II can take part in the programme. Prominent Motivation Trainer and Success Coach Fr Gee Varghese Mekkat will lead the classes. The free coaching programme will be for 150 students who register first.

"The programme being conducted in the second consecutive year will be extended to Vettinadu, Aruvikkara Rural areas in Thiruvananthapuram district this year to benefit more students," said YMCA high school programmes chairman Bency V Thomas and general secretary Shaji James.

For more information and free registration call 6235663393, 6238004192 or 9847380158