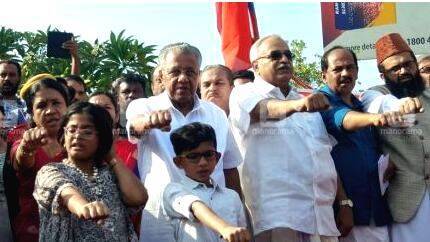 THIRUVANANTHAPURAM: Speaking at the massive human chain event led by the LDF against the Citizenship Amendment Act (CAA), the chief minister said the state will continue its protest till the Centre revokes the controversial CAA.
"We have already proclaimed that we won't allow the implementation of CAA and NRC. However, we should not rest now. We must dedicate ourselves and fight till they revoke the CAA," he said while attending the event at Palayam in Thiruvananthapuram.
Praising the people of Kerala for standing together against the CAA, Pinarayi said, "So far, we have stood together and fought against the CAA without any violence. People across the state have come forward and voiced their opinion against CAA as they are least bothered about their difference in religion and caste," he added.