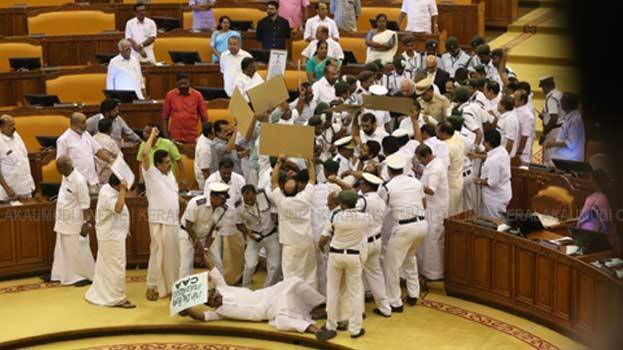 THIRUVANANTHAPURAM: The opposition stunned the ruling benches by attempting to stop Kerala Governor Arif Mohammad Khan in the well of the legislative assembly on Wednesday. This is for the first time in the history of Kerala that a Governor has been stopped by the members from entering the house. The disruption occurred as he was entering the assembly along with the chief minister, the speaker, and the Chief Secretary after inspecting the Guard of Honor at 8.50 am. In a curious break from tradition, the leader of opposition was not present to receive the governor.
It is interesting to note that the ruling party, which has locked horns with the Governor on multiple occasions in the recent past, steered clear of the protest inside the assembly. Legislators mouthing "Go Back" slogans and holding anti-NRC and anti-CAA banners and placards stopped the Governor in the well of the house. After attempts by the chief minister and the speaker to placate the legislators failed, the Watch and Ward were called in to forcefully remove the protestors and clear the way for the governor.
There is a strict protocol laid out for the Governor's policy address in the legislative assembly. Therefore, it comes as no surprise that today's violation caught both the governor and the ruling dispensation off guard. Even though the ruling party and the opposition had initially presented a united front in their opposition to the Citizenship Amendment Act, the opposition withdrew from such joint protests later following internal tussles in the Congress party.
On January 26, the ruling party on its own, had organized a historic 620-km long human chain in the state demanding the withdrawal of the Citizenship Act. It now looks like the opposition has gone a step ahead and organized a protest that is bound to attract even greater national attention.
P Sathasivam, former Governor of Kerala, too had faced minor protests during the start of his policy address in 2016, when placard-holding MLAs of the current ruling party started raising slogans from their benches. Protests along similar lines were noted in the following years too, but all of them pale in comparison to today's dramatic turn of events.