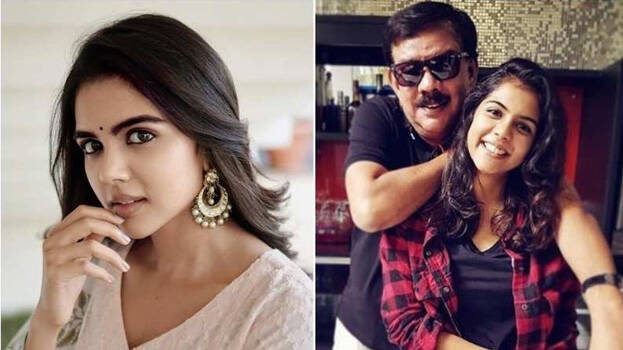 The main highlight of the film 'Varane Avashyamund' was a meeting of two generations of the Malayalam film industry. The leads of the film were children of Sathyan Anthicaud, Priyadarshan and Mammootty. When the film is running in packed houses, the media just wanted to know their fathers' opinion on the performances of their children.
Kalyani, daughter of director Priyadarshan, said that her father has not seen the film but many who had seen the film had sent messages to him. After reading all those messages, my father sent me a message for the first time saying 'I'm proud of You'. She said this while attending a promotional event of the film held in Kochi. Dulquer Salman and director Anoop Sathyan were also present at the function.


Anoop said that his father told him that it was better not to have shown the script to him. This was not a film of my father's style. My father was very tensed, but he liked the film very much. Another joy is that my father's audience also liked the film very much as it gives importance to family relations.
Dulquer said that his father Mammootty doesn't like to comment after watching films. After watching my films, he just says well, good etc. He may think that if said anything I may 'fly high'. My mother told me that she liked the film very much.
Anoop Sathyan said Mammootty Sir sent a message to Suresh Gopi after watching the film. I just wanted the audience to be happy when bringing back Suresh Gopi and Shobana together. The audience was so happy to see the two in the big screen and I felt that in the theatre. A lot of people asked me where were they all these days, he said.
'If the two hadn't given me dates, I wouldn't have done this film. I waited for them for one and a half years. It has its own special joy. They are also happy after the release of the film,' he said.