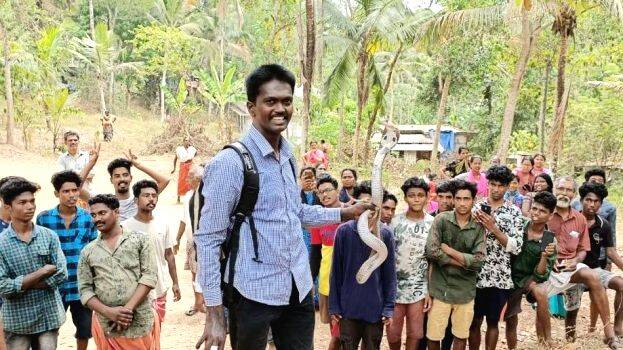 THIRUVANANTHAPURAM: Just a few hours after leaving the hospital, snake-catcher Vava Suresh was back in action when he caught hold of a cobra near a house at Aruvikkara. It must be noted that Suresh was undergoing treatment at the Thiruvananthapuram Medical College Hospital for the past week after he got bitten by a viper.
It was Suresh himself who posted the picture of him holding the snake on his Facebook page. The snake was caught from the courtyard of Aruvikkara-native Mithun's house on Sunday. Thanking all those well-wishers who prayed for his speedy recovery, Suresh said that this was the first snake that he caught after getting discharged from the hospital.
Earlier, Suresh had come up criticising certain media for spreading baseless rumours about his health condition. Suresh was admitted to the hospital after he was bitten by a viper while trying to save it from a well in Pathanapuram.