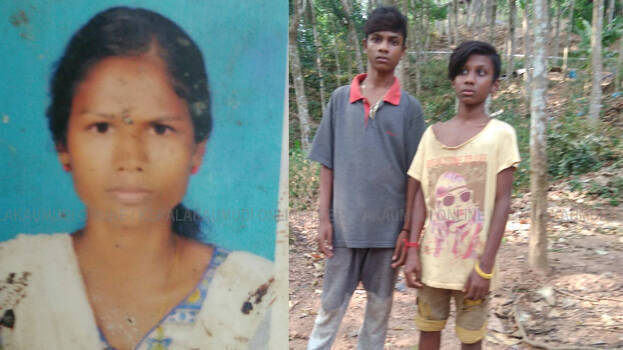 VENJARAMOODU: A search has been intensified for Kuttan accused of murdering his wife. The local residents are also in the forefront to nab the accused, who regularly creates problems. Police is of the opinion that he may have fled to Karnataka where he has been working. As he doesn't use a phone, the police are not able to find the place using tower location. Police said that he may not have gone far as he doesn't have any money. Venjaramoodu circle inspector and team are probing the case under the leadership of Attingal DySP. Her postmortem will be held today at the medical college hospital.
The murder came to light yesterday afternoon. Sini (32) of Pullambara Maruthummoodu Vaalikunnu Colony was beaten to death by her husband. She was missing since last Sunday. Rajesh, her cousin on suspicion searched the premises of the house and found the body in the pit taken for septic tank. On being informed, police reached the spot and took the body out. It is believed that the body is three days old. The skull was found broken.
Sini along with her children Anandthu (13) and Anand (16) were staying at her mother's house following her husband's physical harassment. At times, she used to come home. Kuttan told his children and father-in-law that she had gone to a relative's house when they enquired about her. On Monday afternoon, he told his relatives that he is going to Karnataka. On suspicion, a search for her began. Kuttan was not at home when Rajesh came to their house in Vaalikunnu. He saw the pit dug for the septic tank covered. When he removed the mud, one hand of Sini was seen outside. He immediately informed the ward member and panchayat vice president Sreekantan. They in turn informed the police.
Her son Ananthu was busy preparing for the exam. Even before going for the exam, he asked for his mother. He wrote the exam without knowing that his mother is lying in the pit dug. Ananthu is a ninth class student of Thembamoodu Janatha Higher Secondary School. Due to the regular fights of their parents, Ananthu and Anand stay at their relative's house. On Saturday, they saw Kuttan beating their mother and when they tried to intervene, he chased them away. On Monday, they searched for their mother. They told the neighbours that their mother is missing. In order to avoid suspicion, he made rice and curries for the children. As she was missing, Ananthu did not write his English exam yesterday.
The two children grew up seeing their father attacking their mother. He used to chase them away when they tried to intervene in it. The two used to stay in the houses of their neighbours or relatives. In the evenings, Sini used to make food and wait for her children. The children never got three meals a day and were not able to sleep peacefully on many days.
Kuttan had tried to murder her earlier also. He was jailed for that. In 2004, he was sent to jail for seven years for hacking her on her leg. The two started living together after his release from jail. No matter how much Sini cried, he never used to mind that. A nearby resident had once poured acid on his body for his cruel act.
Sini was killed in a brutal attack on Saturday. Sini had handed over the documents of the house, her identity card and ration card to her relative staying close by fearing him to burn everything.