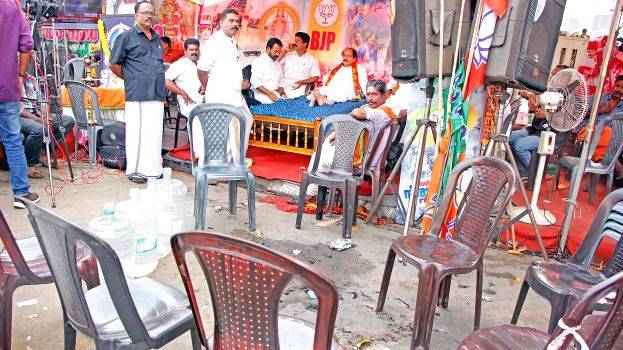 THIRUVANANTHAPURAM: The BJP has again called for a hartal on Friday in protest against the death of a man in hospital after he tried to commit suicide in front of the Secretariat near the BJP's strike venue. Hartal will be for 12 hours, 6 a.m. to 6 p.m.

The 49-year-old man who in an inebriated state set himself on fire outside the Secretariat on Thursday morning; he later succumbed to his injuries.
The victim, Venugopalan Nair, at around 1.40 a.m. doused himself in some flammable liquid and then lit his clothes outside the Secretariat. He was immediately rushed to the nearby the medical college hospital with 90% burns. He succumbed to his injuries by 3.50 p.m. on Thursday. In flames, he was heard chanting the 'swami saranam' hymns. He is a native of Muttada Anchumukku Vayal.
BJP workers blocked him with chairs or else the entire strike booth would have gone up in flames. Police rushed to the site and took him to the hospital. Nair was in a critical state and was under observation in the Intense Care Unit.
Nair left his home by saying that he will visit temple and return. He used to visit Attukal temple and Padmanabha Swami temple around this time. He even slept in temple premises. Owing to this trait, family members didn't look for him when he didn't return. He lived with his brother and mother at his house in Muttada. He had married twice before, but separated from both relationships. He worked as an auto rickshaw driver and plumber. He was an ardent devotee of Lord Ayyappa and was a frequent visitor of Sabarimala temple. He did temporary labour at Aravana plant in Sabarimala before. However he didn't make a visit to Sabarimala this time. He is the son of late Parameshwaran Pillai.
Mother: Radha
Siblings: Manikandan, Meena

The BJP said that Nair was Lord Ayyappa's devotee and was upset because of the ongoing row over women's entry in Sabarimala temple. "He had no associations with BJP", said BJP leader M.T. Ramesh.
However, Venugopalan Nair, in his dying declaration said that no one is responsible for his death. The declaration was taken by the Magistrate in the presence of doctors. Sabarimala issue was never mentioned. Nair passed away soon after.