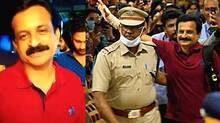 KOCHI: The State government has vowed to take strong action against fans who had gone to receive Reality Show star Rajith Kumar at Nedumbassery airport.
"Two among them have been arrested and further arrests will continue. According to the information available with us, Rajith Kumar has gone into hiding," said Minister V S Sunil Kumar.
"The police are examining CCTV visuals to identify all persons who had gone to receive Rajith Kumar. The instruction given to the police is to arrest all persons who had gone for the reception, irrespective of their number. The government is viewing this issue, which has brought shame to Kerala, very seriously".
The minister was speaking in Kochi after Corona review meeting.
The minister said when the whole of the country was fighting against Coronavirus, certain people were showing buffoonery like this. "All this is ridiculous. It was suddenly that people gathered there and shouted slogans to receive him. All these thing cannot be accepted.
Rajith's statement that those who have good mind will not contract Corona have also come to the notice of the government," the minister added.