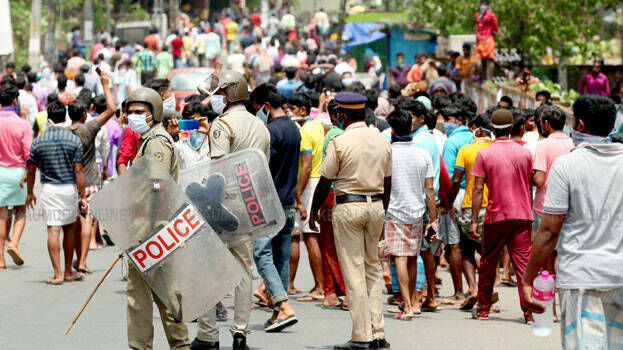 THIRUVANANTHAPURAM: Police have intensified the monitoring of migrant workers' camps in the State following Sunday's incident in Payippadu when the panic-stricken workers made an exodus on Sunday towards their states.

They have visited all camps of migrant workers in Perumbavoor, collected their details, created awareness about handling the situation and even conducted route march in their areas.

On Sunday morning at around 11 am, unexpectedly, about 3000 workers had gathered at Changanassery. Within 20 minutes this had happened. The police confirmed that there was conspiracy behind this.

Ahead of the protest gathering by migrant workers, several voice clips had been circulated through their mobile phones. The speaker in voice clips promised them to arrange transport facility to go back to their hometowns like the arrangements made for migrant labourers who had gathered in Delhi.

There were photos and visuals of vehicles being arranged for workers in North India. The circulated messages also said that their demand would be accepted only if they protested.

The police see these fake messages and video/voice clips as evidence for conspiracy. The police have seized mobile phones of some of the labourers to find out the sources of such misleading clips.