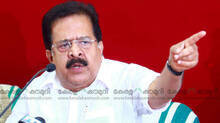 THIRUVANANTHAPURAM: Opposition leader Ramesh Chennithala has asked the government to get the permission of the Centre to run special trains to bring back Malayalis from other states.

"Special trains should be arranged from Mumbai, Bengaluru, Chennai and Hyderabad.

The order issued by the chief secretary is impractical. The conditions in the circular issued by the government are not something that is possible for ordinary persons," he said.

Alleging flaw in the coordination of activities against the government, he said that confusion persisted along the borders. "States like Rajasthan are sending more than 100 bused to other states to bring back their students.

KSRTC buses should also be sent to Bengaluru and Coimbatore," he said.

Chennithala said that UDF won't be able to accept the instructions issued by the Centre to bring back expats. The Centre should show more leniency in this case.

Chennithala said that through the programme 'Naam Munnottu' , the chief minister was justifying extravaganza and bribery. "When the State is facing the biggest crisis, employees were being recruited in the KIIFB at a daily salary of Rs 10,000. KIIFB is full of extravaganza and corruption," he alleged, adding that Naam Munnottu programme was the visual representation of Narendra Modi's Mann ki baat.