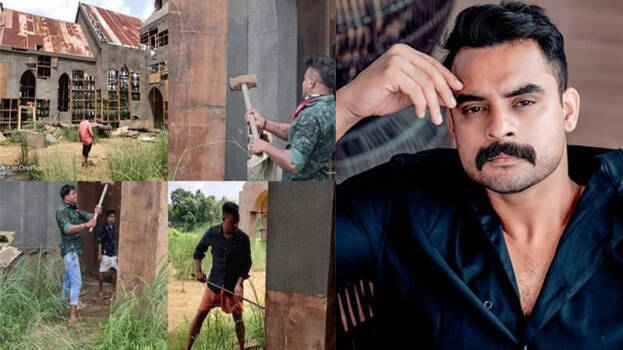 Bajrang Dal activists demolished the film set of 'Minnal Murali' which has Tovino Thomas in the lead role. The set was constructed for the shooting in front of the Mahadevan temple at Kalady Manappuram. The activists from the pro-Hindutva outfit alleged that the crew erected the set of a church in front of the Siva Temple in Kalady. They alleged that the set of the Christian church is hurting the religious sentiments. This is Basil Joseph's big budget film made in four languages including Malayalam after Godha.
The shooting of the film announced in early 2019 started in December. The shooting had to be suspended following the outbreak of COVID-19 and the lockdown that followed. The producer had spent a huge amount of money for the set and the incident has shocked the film fraternity. The set of the church erected in front of the Kalady Mahadeva Temple with the permission of all was destroyed. The pictures of the set demolished and those behind it are being circulated in the social media. The news of the demolition was confirmed by Akhil Hindu Parishad (AHP) state general secretary Hari Palode via a Facebook post.
His Facebook post says
'We warned them not to build the church in front of Lord Siva in Kalady. We had lodged several complaints. We don't have the habit of begging and so we decided to demolish it. I appreciate all the activists who took part in this effort.'


The crew of the film said nearly 45 lakhs have been spent for the set and its related activities.
Actor Aju Varghese had shared a Facebook post. The set erected in March was with the effort of a producer, production designer and hundreds of others. The shooting was suspended due to corona and the lockdown that followed. What is the condition of it today? The reason is shocking, how can people do it, he mentioned in the post.


The film is produced by Sophiya Paul under the banner of Weekend Block Busters after Bangalore Days, Munthirivallikal Thalirkkumbol, Padayottam etc.
The director also termed the incident as shocking. He said the act has shattered the dreams of many working in the movie. I don't know what to say. For some this could be a comedy or troll and politics for some. It was a dream for us. The producer spent a huge amount of money to make such a set with the permission of the concerned. The art director and his team erected the set in the scorching heat spending days for it. We never expected this to happen, he wrote in the post.