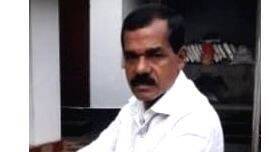 KURUPPAMPADY: Charred remains of a private finance firm owner was found under mysterious circumstances here. The deceased has been identified as Anilkumar (55).
The incident was on Sunday. Anilkumar left the house in Vayikkara at around 10 am. He didn't return home even after 3 pm and his son went to the firm's office and found the charred remains. The door of the firm was left open.
As per the police's primary assumption, the person committed suicide by setting himself ablaze after pouring kerosene. Forensic experts inspected the place.
The body of the deceased was handed over to the relatives after postmortem. Wife: Simla. Children: Anugraha, Adarsh.

Anilkumar was operating a private finance company for the past 40 years. The local residents and neighboring shop owners allege mystery behind the death. There weren't any signs of kerosene burn at the spot.