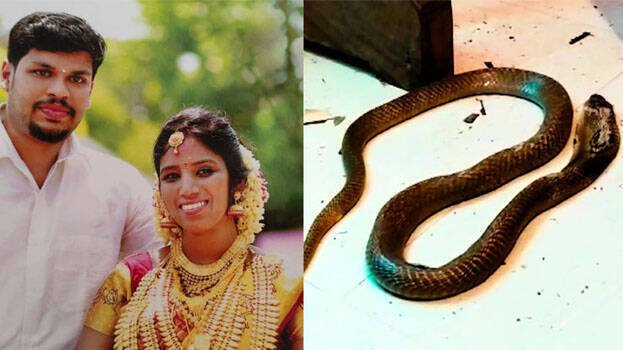 KOLLAM: The post-mortem conducted on Cobra in connection with Uthra murder case has been completed. The post-mortem report clearly says that Uthra was surely bitten by venomous Cobra. In the post-mortem conducted on the snake, its poisonous fangs were obtained. The flesh part of the snake was in a state of disintegration.


The main aim of the post-mortem was to find out whether the venom of the snake and that found in Uthra's body are same.

The investigation team says that the materials collected from the crime spot are strong evidence.

The accused had beaten the cobra, which had bitten Uthra, to death and buried it. It was this dead cobra that was dug out and subjected to post-mortem. The police are also examining whether this Cobra is the same as the one seen in the photo.

In the post-mortem, the snake's length and distance between its fangs were examined. These details were used to ascertain the depth of the bite wound on Uthra's body.

Conducting post-mortem of a snake as part of a criminal case is the first incident in the State. The post-mortem was conducted in a temporary facility arranged in a space adjacent to Uthra's house.

The procedure was done in the presence of police and officials from forensic, animal welfare and forest departments.

A case was also filed against Sooraj and Suresh under Wild Life Protection Act.

The investigation team, which has got four-day custody of the accused, is currently interrogating them.

What the investigation team is trying to find out next is whether Sooraj's family had any role in the 'murder' of Uthra. His family members including her sister will be questioned soon.