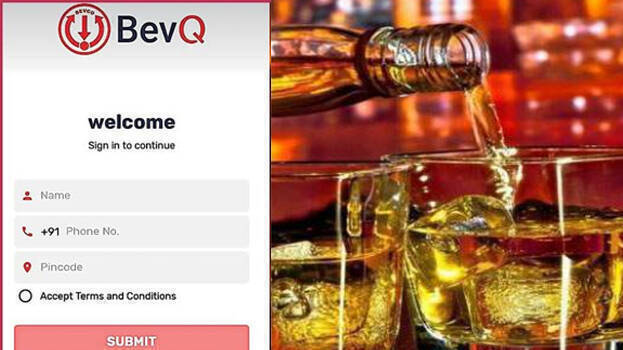 THIRUVANANTHAPURAM: Ending the long wait, liquor outlets in Kerala started functioning from 9 am on Wednesday.

Those who have booked for liquor via Bev-Q will be receiving the bottles on payment. The liquor is distributed through 877 outlets.

The sale is being done through Bevco's 301 outlets and 576 bars.

In 291 beer-wine parlours, only beer and wine will be supplied. The liquor will be sold at same price in Bevco and Consumerfed outlets.

Meanwhile, there are widespread complaints against the Bev-Q. Many complained they were not able to register in the App and were not getting OTP. Though the App is in the Playstore, it is not available in the search. There is also a complaint that the App got hanged in the morning. Some are also finding it difficult to download App afresh.

Currently, people are downloading the App through the link released by App creator Faircode Technology Pvt Ltd.

Though the link reached the Play Store at 11pm on Wednesday, a majority could not book for liquor. The reason was the unavailability of the OTP. Along with this, there is also a complaint that bar owners have not received user name and password.

Meanwhile, the authorities concerned informed that issues related to the App will be resolved soon.

According to a report, about 3lakh people have downloaded the App. Booking through the App has crossed One lakh.
The liquor outlets were closed on March 24 following lockdown and after so many days the outlets were reopened only today morning. The booking had started on at 7 pm on Wednesday. The trial run had been completed at 2pm on the same day.