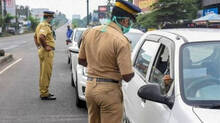 THIRUVANANTHAPURAM: From this Sunday (June 28) onwards, there won't be complete down on Sundays in the State, according to a communication from the chief minister's office.

The above decision is learnt to have been taken after the finding that Sunday lockdowns won't serve the purpose since relaxations have been given for inter-district travel.

However, no relaxations are applicable in containment zones and nearby areas and people are told to strictly follow Covid protocol in these areas.

Some relaxations were given last week as there were entrance examinations..

Meanwhile, as the disease is spreading in the State, the government authorities have decided to take strong action against those who violate restrictions.

"No more advice and only stringent action," is what the police say about their next move. The other day also the police had taken strong action against protocol violators.