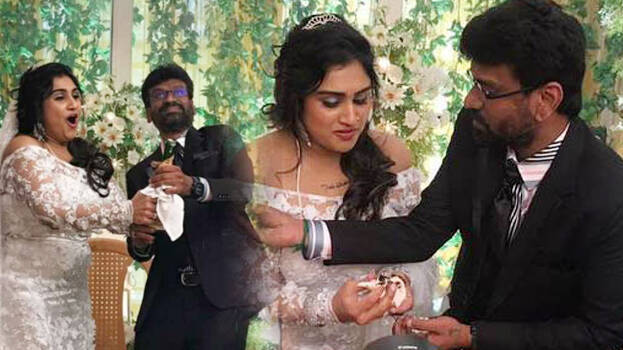 The first wife of actress Vanitha Vijayakumar's husband Peter Paul has filed a case against him.

Ellizabeth Helen, the first wife, who is living separated from Peter had given a complaint against him at Chennai Vadapalani Police Station.
It was Vanitha's third marriage.

Elizabeth has made some allegations against Peter. "I have two children with Peter Paul. We have been living separately for the past seven years due to some differences of opinion.

Peter married Vanitha without getting legally divorced from me," she said in the complaint.

The police have filed the case. Though Vanitha married two times earlier, both these relationships ended in divorce. Vanitha had come to her third marriage ceremony with her three children.

The marriage happened at her Chennai house as per Christian tradition.

Peter is the director of VFX, which is active in Bollywood-Hollywood-Kollywood sectors.

Vanitha, the eldest daughter of actor Vijayakumar and actress Manjula conducted her marriage ceremony on the marriage anniversary of her parents.
Vanitha had been active in Malayalam, Tamil and Telugu films.