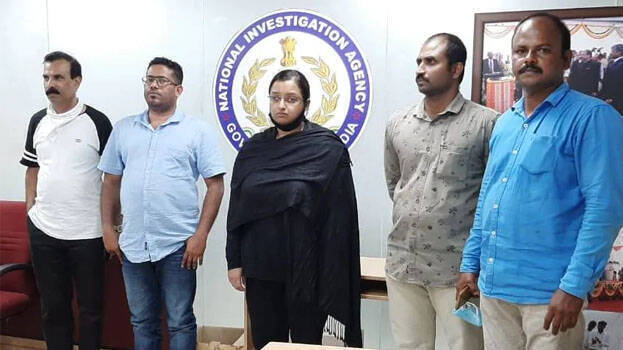 KOCHI: The NIA team brought Swapna Suresh and Sandeep Nair arrested in the gold smuggling case, to Kochi. The two were brought to the NIA office in Kochi. The two will be interrogated soon. Top officials including RAW have reached the spot.
It is heard that the suspects arrested will be questioned together. As per reports, the two will be produced before the magistrate this evening. The two were subjected for a COVID test and for a medical examination at the Aluva district hospital.
A large contingent of police was deployed at the NIA office and its surroundings fearing protests. Police barricades have been installed in the area. None including the media are permitted to enter the premises of the office.
The two were arrested last night. The team with both the suspects left Bengaluru early Sunday morning. They reached Walayar check-post at 11.30 am. People crowded on the sides of the road to have a glimpse of the accused.
However, the vehicle carrying Swapna got punctured near Wadankkanchery. The team continued after shifting her to the vehicle carrying Sandeep. Swapna had covered her face. The Kerala police had arranged security for the NIA team on the road side.