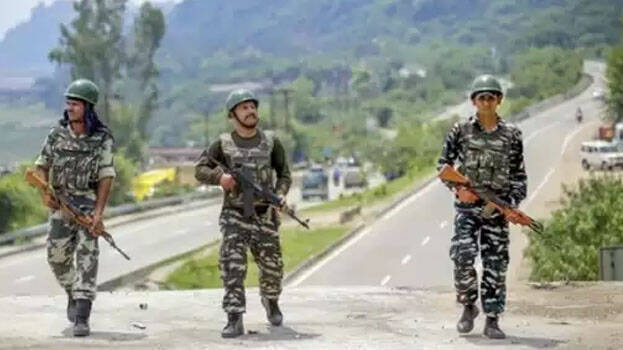 Srinagar: In the erstwhile state of Jammu and Kashmir, when it had a special status, the chief minister was the most powerful person in the decision-making process. Now, the rules brought by the Centre for the government in the Union Territory of J&K make it unambiguously clear that the chief minister and her council of ministers would not have any say in matters related to the Indian Administrative Service, Indian Forest Service, Police and Anti- Corruption Bureau.
Reduced to an ornamental figure, the chief minister would not even have the power to transfer a constable of the Jammu & Kashmir Police.
Jammu and Kashmir do not have an elected chief minister since 2018 when the BJP-PDP government collapsed.
The Transaction of Business of the Government of Union Territory of Jammu and Kashmir Rules, 2019, notified by the Ministry of Home Affairs state that all proposals connected to public order, police and IPS officers will be submitted to the Lieutenant Governor.
"Provided also that in respect of matters connected with public order, police and IPS Officers, the matters shall be submitted to Lieutenant Governor by the Principal Secretary, Home through the Chief Secretary," reads the Rules.
Police, thus, will be a domain exclusive to the LG.
According to the Rules, the proposals relating to matters connected with All India Services Officers and Anti-Corruption Bureau shall be submitted to the Lieutenant Governor by the commissioner or secretary of the General Administration Department.
Now, the President of India will have the final say on any matter over which differences may arise between the LG and J&K's Council of Ministers.
"In case of difference of opinion between the Lieutenant Governor and the Council with regard to any matter, the Lieutenant Governor shall refer it to the Central Government for the decision of the President and shall act according to the decision of the President," reads provision 47 of the rules.
The LG of J&K has been empowered to pass directions in such situations that action taken by the Council of Ministers will be suspended for as long as it takes the President of India to decide on the cases referred to him
Under the Rules, the LG can refer any matter to the Council of Ministers in case of a difference of opinion between him and a minister of the Jammu and Kashmir Union Territory. "Should the difference of opinion persist, the Lieutenant Governor may direct that the matter be referred to the Council, which shall consider the matter in its next scheduled meeting and shall convey its decision but not later than 15 days from the date of such reference," the Rules state.