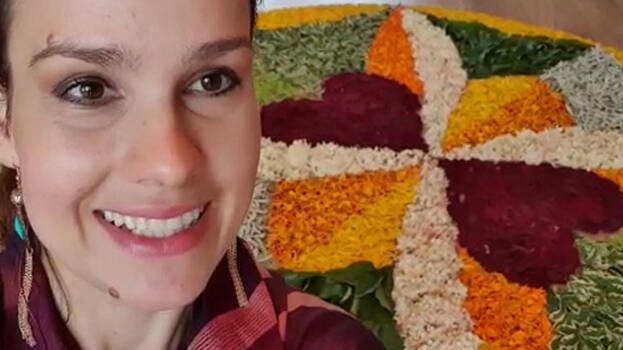 THIRUVANANTHAPURAM: During this Onam, greetings would have poured in to Kerala from different parts of India and world. But the wishes that came from Latvia this time is something special. It has been sent by Ilzie Zarchoma after arranging 'athapookkalam' at her home in Latvia. She has sent the greetings to the Malayalis not only in Kerala but across the world, as well.

There is little chance for Malayis to have forgotten this woman. She is the sister of Latvian woman, Liga Skromane, who went missing from Kerala after reaching here a few years ago and whose decomposed body was later recovered from a marshy woods in Kovalam.

During that time, Ilzie had constantly contacted the government and media persons. Her desperate search for her sister and tiresome official formalities she had to undergo had gained much media attention at that time.

Finally she found her body, carried out the funeral here and returned. Though her sister's life ended in Kerala, she didn't hate this land. Her hearty gesture is testimony to this.

Earlier in 2018 during the times of flood also, Ilzie responded in a compassionate manner. Her special Onam greetings has sent an out-of-the-ordinary message for this Onam.