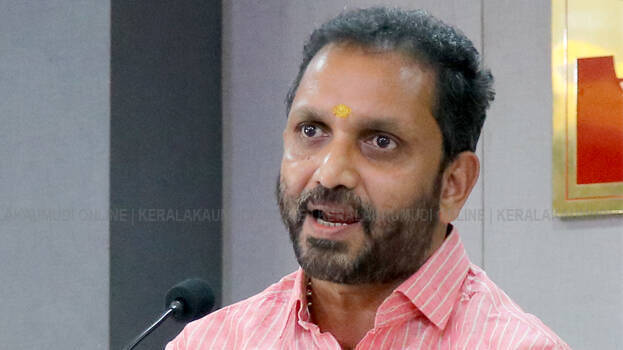 KOZHIKODE: BJP state chief K Surendran lashed out at the government in the gold smuggling case. He said not only the office of the chief minister, AKG centre too has a role in the case. The remand report issued by the National Investigation Agency has stated that religious extremists are involved in the gold smuggling. He said this while inaugurating the hunger strike staged by Kozhikode district president V K Sajeevan at Kidson Corner seeking the chief minister's resignation.
It is a shocking information that the gold smuggling case is linked to terrorist organizations and drug traffickers. Anoop Muhammed arrested in Bengaluru in drug smuggling case is the benami partner of Bineesh Kodiyeri, son of CPM state secretary Kodiyeri Balakrishnan. The narcotic cell when questioned Anoop understood that some films stars of Karnataka and Kerala have links with drug smugglers. Anoop Muhammed and his team were doing this business from 2012 onwards. Bineesh had agreed that he has connections with him from then.
Surendran said the party who spoke about the responsibilities of leaders to be followed in their family and public lives at the plenum in Palakkad is now keeping mum. This is not like the Bihar case, it is a serious drug case. Bineesh Kodiyeri is the son of Kodiyeri Balakrishnan, who has influential powers. The Kerala police should probe the night party held in Kerala and who all attended it. Some film actors and party secretary's son attended the party along with the drug smuggling team. How did the accused in the gold smuggling case flee to Bengaluru and who all helped them should be brought to light. It should be examined whether Bineesh, who has close connection with Rameez and Anoop, helped Swapna. Surendran said party all India leadership owes a reply on it. He sought the resignation of the chief minister.