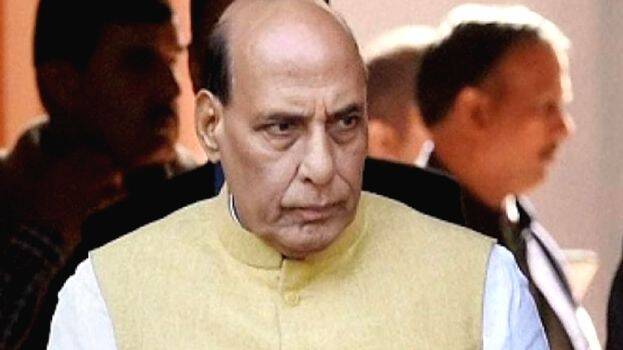 The short monsoon session of Parliament began on Wednesday with an appeal made by Prime Minister Narendra Modi to the people to give respect and support to jawans who are guarding our boarders.
Though this didn't happen, there was din and walkout in Parliament.
It is true that there is a strong resentment in India against constant trouble being made by China and Pakistan along the borders. But it is the responsibility of the Opposition parties not to politicise the issue and divert the attention from the real issue.
Though the Opposition clamoured for a discussion on the matter, the government's refusal to discussion after the minister's statement, in view of the "sensitivity" of the matter, led to a Congress walkout.
The party, which had repeatedly demanded that the government explain the "real situation" in Ladakh, on Tuesday carried placards that read, "We want a discussion on China and PM must answer".
As the Speaker refused to allow the party's leader in Lok Sabha Adhir Chowdhury to speak, the Congress members staged a walkout to mark their protest.
India is "very serious about issues of sovereignty" and the country is prepared for "all contingencies" to ensure that it is maintained, Union minister Rajnath Singh told Parliament in what was seen as a strong warning to China amid repeated transgressions at the Line of Actual Control.
Detailing a key meeting between him and his Chinese counterpart at the SCO meet hosted by Russia, Singh said he made it clear that India wanted to resolve this issue in a peaceful manner and "want the Chinese side to work with us". But "there should also be no doubt about our determination to protect India's sovereignty and territorial integrity," Singh told parliament as it resumed after more than five months.
Earlier in Ladakh, China had illegally occupied 38000 sq km whereas in Arunachal Pradesh, it has occupied 90000 sq km.
As if this is not enough, it has also occupied more than 5000 sq km in Pak-occupied Kashmir. Even today China is trying to encroach on Indian Territory in blatant violation of international laws.
Our brave soldiers, on the other hand, have been giving befitting reply to Chinese misadventures.
Despite bilateral talks going on, China has been going ahead with troops and arsenal deployment along the border.
After agreeing to ease tension on boarders, China has been coming up with new issues every day. China has already earned the reputation of an untrustworthy neighbour.
When India sticks to treaties made for peace, China comes up with new issues every now and then.
Soldiers guarding the country from Indian posts above 10k feet, are seasoned to meet any exigencies. The defence minister also said in the parliament that facilities for jawans have been enhanced so that they could execute their duty without any hassles.
After China, Pakistan is also provoking India. In the Pak shelling at Kashmir's Rajouri on Wednesday, a Malyali jawan ied. He, identified as Aneesh Thomas, was a native of Kollam Kadakkal and he was supposed to have come home on leave the next week.
When all its agendas have failed, Pakistan is trying to create unrest along its border with India. Stronger retaliation would be the answer for Pak's rogue behaviour at the border.
Any patriotic person will be worried about border fights but it is not right to attack or lampoon the Indian government unnecessarily on that account.
Congress leader Rahul Gandhi had tweeted ridiculing PM Modi and his government. Congress's Rahul Gandhi, who is currently abroad, tweeted, "It is clear from the statement of the Defense Minister that Modi ji misled the country on Chinese encroachment. Our country has always been, and will remain, with the Indian Army. But Modi -ji, when will you stand against China? When will we take back the land of our country from China? Do not be afraid to name China".
When making comments regarding the national security, they should be aired very cautiously. When Rahul Gandhi asks whether the PM is scared of China, who is being belittled is not the prime minister. He should remember this. When enemy nations are all set for an intrusion, what we should do is to stand by the government
Even when pointing out chinks in the defence steps, one has to be careful that they do not go in favour of the enemy nations.
India has always stood for peace even when the China or Pak has tried to provoke her.
This has been the path followed by India on all times. Those who make pointless statements in Parliament should remember this.