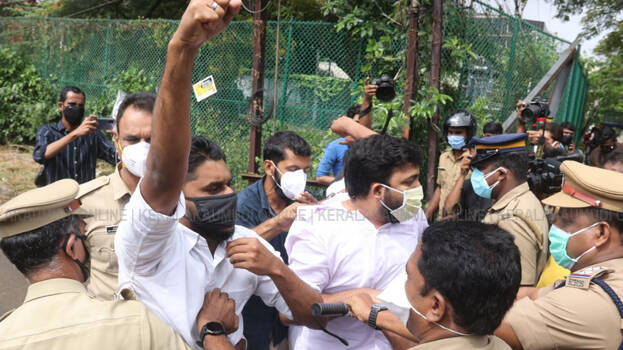 PALAKKAD: The state is witnessing widespread protests demanding the resignation of Minister K T Jaleel, who is facing the heat in the gold smuggling case. Protests continue on the sixth day demanding the resignation of the minister. A scuffle broke out between the youth congress activists and the police in Palakkad. Following that, the police resorted to lathicharge. The march was staged by a team led by V T Balram MLA. The police beat Balaram and many others sustained injuries in the lathicharge. The activists squatted in and shouted slogans against the police.
The Congress and the BJP are intensifying protests against Jaleel. Protests march were staged to the secretariat and various district centres. The police removed some youth congress activists who were protesting in front of the NIA office at the time the interrogation started.
The police stopped congress activists protesting near the NIA office with barricades. Security was beefed up at NIA office where he was questioned. All roads to the NIA office were closed with barricades.
The BJP and Yuva Morcha staged march to NIA headquarters. The march was staged to express solidarity to the NIA questioning Jaleel. Two Yuva Morcha activists were taken into custody for jumping the barricades. BJP state spokesperson Narayanan Namboodiri sustained injuries.
Meantime, security has been tightened in front of AKG Centre. More police force are deployed at the minister's office.