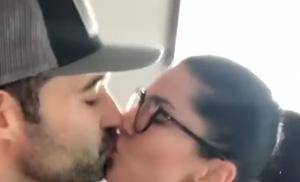 When several Bollywood actors came out to celebrate Ganesh Chaturthi on Thursday, Canada-born Bollywood diva Sunny Leone and her husband have celebrated the day in a unique way.
The 37-year-old chose the auspicious day to move into her new house in Mumbai with her husband Daniel Weber.
She announced the news on Instagram by posting a video of Daniel carrying her inside the house in his arms as she shoots their first steps together in their new abode.
In the video, Sunny is wearing a soft pink tee, specs and a pony tail. Daniel, meanwhile, is sporting a military green ganjee and baseball cap.
"I don't know all the rules...customs...or what's the right thing to do on this day. But @dirrty99 and I are celebrating our Ganpati with moving into our new place here in Mumbai! Happy Ganesh Chaturthi everyone! God Bless you all!!" she said on Instagram.