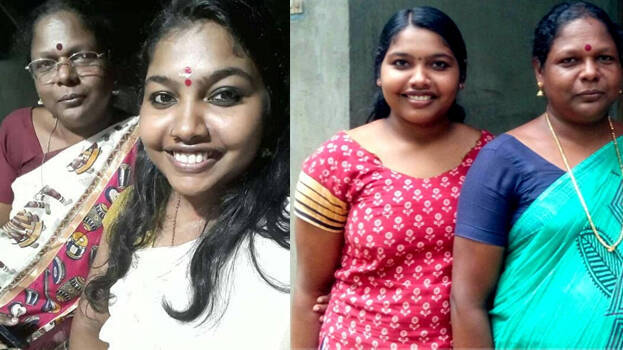 THIRUVANANTHAPURAM: Usha Kumari Arackal, mother of activist Sreelakshmi Arackal, told Kerala Kaumudi Online, that she supports her daughter 100% for manhandling Youtuber Vijay P Nair. He deserves to be beaten. In my opinion, what he got was not enough. Even if the whole world opposes it, I am a mother who believes that what she did was right. I am proud of my daughter. A neighbour hurled abuses against me just an hour ago. This is not an issue which will digest fast and there will be problems, she said.
Usha Kumari Arackal said no good alliances came for as she did not have dowry to give and was from a backward family also. Later a person who was ready to stay at my house came to marry me. He was a hotel employee. He was ten years elder to me. We stayed together only for 11 months. He was a marriage fraudster. He was non-alcoholic and teetotaller and looked decent. After delivering Sreelekshmi, he never came home. He got married to another woman after 22 days of the birth of Sreelekshmi. I filed a case then. I lodged a complaint to many including the then chief minister A K Antony.
When my marriage broke, all my relatives stayed away from me. It was a shame for them. I tried to commit suicide, but it failed. I tried to raise her and thought that I was not the lone woman abandoned by a husband.
When I raised her, I used to advise her to grow as a man and a woman. I would always say that in her ear. We've starved a lot. I was a daily wage labourer until she was three and a half years old.
Whatever Sreelekshmi says and does is essential to the society when thinking progressively. We don't pay much heed to criticisms. She is a matured child. All our relatives have deserted us. Arackal is my father's family name. My brother wanted us to remove that. They don't invite us for any functions. When Sreelakshmi was three-and-a half-years-old, all her relatives started talking. She grew up in a good environment. She was academically good.
She first spoke about masturbation on social media. It had stoked a controversy then. I did not have a Facebook account then. Criticisms were showered on us. Many asked how an unmarried woman talk about sex and masturbation. Fearing to lose my relatives, I fired her then.
Her response was that it was necessary for the society. Our society has an inadequacy of sex education. If that has to change, we should speak openly. It does not mean that it will change today. I don't care who ever speaks against me. She said that if I don't support her, she will be distressed.
I thought that I should support her if my daughter hears accusations for progressive idea. I have faith in my daughter since my route is clear. I was a CPM party member for 20 years. I have no objection to the party. But the behaviour of leaders below the area committee is not conducive in helping the poor. The party is not supporting the stand of Sreelekshmi. DYFI sponsored her for her higher studies and when they stopped, she found another sponsor with the support of her teacher.