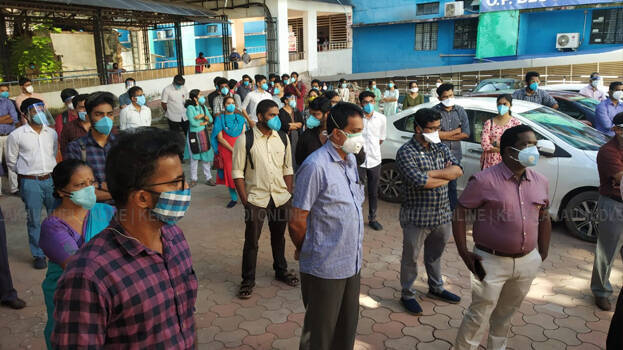 THIRUVANANTHAPURAM: Doctors' organizations stage widespread protests over suspension of medical college staff. Doctors began a two-hour boycott of OPs in all medical colleges of the state. The doctors' stage widespread protests boycotting the OP soon after the signal strike and relay satyagraha at the Thiruvananthapuram Medical College.
The doctors organizations have decided to continue the strike until the doctor suspended in connection with the incident relating to infestation of maggots in bedsores of a bedridden positive patient, is reinstated. The doctors are protesting without affecting COVID treatment, casualty and the ICU. However, they are planning to boycott the OP indefinitely from tomorrow till the government takes a favourable decision.
Meantime, the patient's relatives have sought action against more employees. With this, the health department is under pressure. The health department reviewed that the ongoing strike will affect preventive measures of COVID-19. Therefore, there may be further discussions with the protesters.

Dr Aruna, the nodal officer of COVID activities in the hospital, and two head nurses were suspended on September 18 following the incident. A detailed probe by the director of medical education into the incident is continuing. COVID nodal officers of all medical colleges resigned en masse in protest of the suspension.