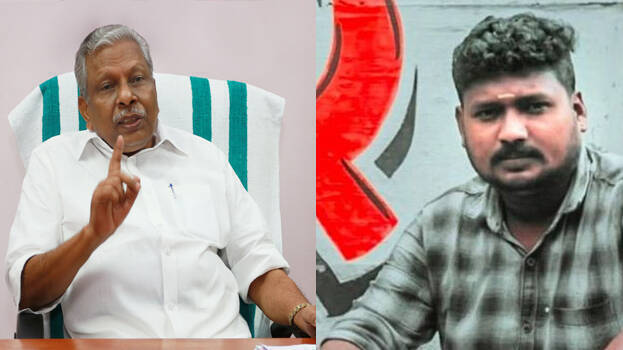 THRISSUR: In the wake of the murder of CPM branch secretary Sanoop, once again the never-ending saga of political murders in the state has resumed. Those who accompanied Sanoop at the time of the murder were hospitalised with serious injuries. CPM alleges that Bajrang Dal-RSS workers are behind the murder. CPM leader and minister of local self bodies talked to Kerala Kaumudi online on this issue.
Kerala is confronting another news of political murder. Whether regional political rivalry has a played a role in Sanoop's murder as like the previous ones?
Sanoop is a DYFI leader and he is also CPM's branch secretary at Puthussery. His parents also passed away some years before and he belonged to scheduled caste community. He was a popular leader among the people of Puthussery. He immediately responds to people's needs and he is not involved in any criminal case. Puthussery and its surrounding areas are strongholds of CPM. It was a purported attempt to exterminate a popular leader.
So the minister is of the opinion that the murder didn't happen on any provocation?
There was no provocation. Sanoop was on his way to drop his friend at night. He was accompanied by his three friends. It's a desolate road and now it is filled with Sanoop and his friend's blood. The murder attempt was very unexpected. They had nothing to defend him. It is said that all accused were holding weapons. Most of them had links with RSS and Bajrang Dal and they had a criminal background. There is a clear conspiracy behind the murder. They thought that if he is exterminated then party's influence in the area could be diminished.
Sanoop was part of many pro-people programmes like food packet distribution. Did you had any personal relationship with him?
As I was the district party secretary, I knew Sanoop. He was only 26-years-old. The programme of distributing food packets to hospital patients has been going on this area for the past one-and-a-half-years. Different units of DYFI has been assigned specific days for the food distribution. Today Sanoop's unit had the charge of food distribution and he was running from pillar to post to arrange the food packets. He was a good youngster. Trained professionals are behind this murder and RSS men are trained in such murders.
Sanoop's murder held one month after the Venjaramodu murder. Do you think that an organised attack is happening against CPM in the state?
Organised attacks against CPM is going on in the state in various forms. Congress and BJP along with media are forging grand plans to destroy party and government in Kerala. They fear that the existing regime of LDF will continue, apart from this they are also attacking CPM workers. This is the third incident after Kayamkulam and Venjaramoodu. They are trying to destroy the law and order machinery in the state by making such purported murder bids.
In the state, a left government is in power under the leadership of CPM. Does this murder shows that party workers are not safe even after the state being ruled by their own leaders?
That's baseless. We have faced such attacks when there were UDF regimes. We are not someone who enjoys the shade provided by power. This party functions among the people of Kerala. We have lost 56 workers in Thrissur alone. RSS men are behind most murders. Even is we are part of the government or not, we function among the people. So in order to reduce our influence, they will target our popular leaders. Our motive is to prevent RSS's influence and to stop hunting minorities and we won't consider whose is in power in Thiruvananthapuram. Congress is only standing just behind RSS in such issues. Congress and BJP have made an understanding to justify each other when one lands in trouble. As polls are around the corner they are making purported attempts to destroy this government. But we will strengthen our activities to enhance the party's presence among the masses