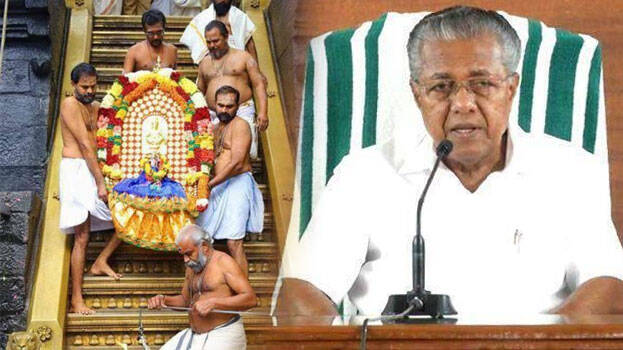 THIRUVANANTHAPURAM: As the Sabarimala temple opens for poojas in the Malayalam month of 'Thulaam', CM Pinarayi Vijayan clarified the COVID protocol that needed to be followed by the pilgrims. The minister said that 250 devotees who registered through virtual queue can perform darshan in a day and each devotee has to carry a COVID negative certificate that was taken within 48 hours of registration along with a medical certificate.
He added that this is not to create difficulties as many who recovered from COVID show health problems.
"It is good to have a certificate that shows one has proper health to hike Sabarimala. Even if a person was never infected by COVID-19, many stayed inside houses during this pandemic and sudden physical activity can cause problems. Only those between 10 years and 60 years will be allowed for darshan. The pilgrims will have to adhere to the time and date provided at the time of booking", the CM clarified.
'Those who come for darshan will have to follow all COVID guidelines. It is difficult to wear masks while hiking Sabarimala. Masks will have to be worn otherwise. One has to keep sanitizers, masks and gloves with them at all times and use them as needed. Obey the police guidelines. Social distancing will have to be maintained in and around Sabarimala, the minister said.
The hospitals in Pamba, Nilakkal, and Sannidanam are equipped and enough staff is deployed. The devotees won't be allowed to bathe in Pamba. For that, special showers will be there. Sabarimala can be reached only through Vadasserikkara and Erumel. Other roads will stay close, CM Vijayan added.