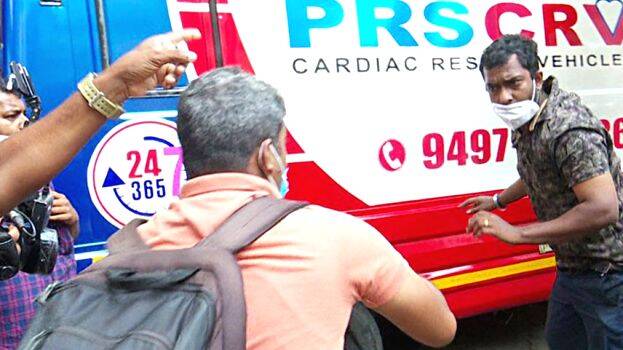 THIRUVANANTHAPURAM: Mediapersons who were capturing the stills of Sivasankar while shifting him to Medical College Hospital to PRS Hospital was manhandled by hospital staff and others. Five were injured in the tussle. This happened right in front of the police. Cameras were also destroyed. Following protests, Karamana police arrested Kiran (30), who resides near PTC Tower in Thampanoor.
Media persons including women were manhandled. Deepa Prasad, photographer in Suprabhatham daily and Suresh, a cameraman of Amrita TV were at the receiving ends of more thrashing. Sheeja, a woman reporter from Kairali, Reporter TV camerawoman Shajila and Shivaji of Siraj daily also were victims of the assault. Suresh was admitted to a hospital following the clash. Others also sought treatment at a private hospital
A hospital staff started verbal abuse and assault against the media persons without any provocation while capturing the photos of Sivasankar while he was being taken to an ambulance through the emergency door in the hospital. There was an attempt to assault the media persons at the Medical College Hospital as well.