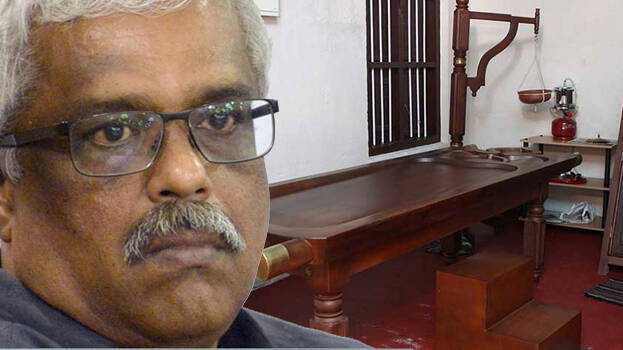 THIRUVANANTHAPURAM: The day when Swapna's testimonial was out, in which she said that ministers in the state cabinet approached the UAE consulate citing various demands, M Sivasankar, CM's former principal secretary, without being aware of these developments is undergoing Ayurvedic treatment. Shivasankar's massage treatment has been started at a private ayurvedic hospital in Vanchiyoor. Shivasankar will be laid on an oil bed (Ennathonni) for massage, after applying Kuzhampu on his body.
When he complained about severe back pain, an x-ray was taken, in which a slight protrusion in disk bones in his backbone was found. Doctors
conclude that this might be due to repeated trips made by him, in his car from Thiruvananthapuram to Kochi, for questioning by probe agencies.

Apart from massage, he will be also subjected to physiotherapy. Hospital authorities haven't revealed up to what time the treatment is needed. Earlier, Sivasankar has told ED that he had back issues and has also gone for treatment in Kottakal Arya Vaidyasala.

Meanwhile, doctors from Neurology, Cardiology and Orthopaedics in medical college hospital after thorough check-ups has concluded that Sivasankar has no serious health ailments. The medical board also held the opinion that the back pain is not a serious issue and it requires only medication and proper rest. The high court has given a stay on Sivasankar's arrest by ED and customs till October 23.

No health problems, Sivasankar is acting

Customs has told the court on Tuesday that Sivasankar has no serious health problems and doctors have only given him pain killers to overcome his backpain. Customs said this when it was replying against the anticipatory bail plea filed by Sivasankar.

As he was aware that he could be charged under sections of FCRA, Sivasankar in October 14th itself made moves for an advanced anticipatory bail plea. After this, when customs summoned him for questioning, he acted like a sick person and asked for immediate hospitalisation. He had followed a clear plan of action and now he is putting the blame on the customs department. He had a pre-conceived plan to act like he is having severe back pain and to get admitted to the hospital where his wife is working as a doctor. Customs in its explanation says that Sivasankar is trying to avoid questioning.

Court has also made it clear that as per customs act 108, bail won't be given once notice is served to the accrued for questioning. If anticipatory bail is to be given, the court should be convinced about an attempt to impose sections of a particular crime or ground of illegal arrest. But such things are not mentioned in Sivasankar's plea, therefore, customs has asked the court to cancel Sivasankar's bail.