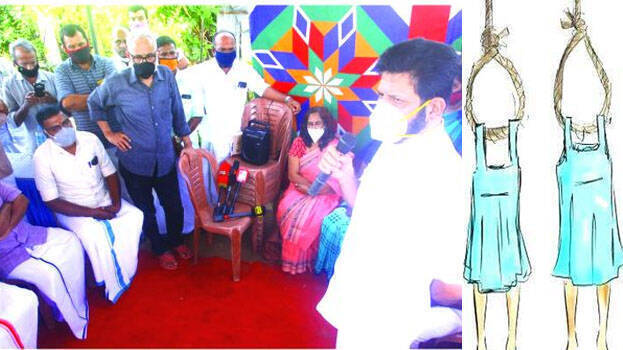 PALAKKAD: The sit-in protests organised by the parents of Valayar girls, demanding justice for their kids have entered the second day. Opposition leader, Ramesh Chenithala and state BJP chief, K Surendran will visit them on Monday. Congress has earlier alleged that the illicit liquor tragedy in Valayar is being used by the government to divert attention from the Valayar case. Chennithala will also visit Chellankavu colony where also many persons died after consuming spurious liquor.
The indefinite sit-in protests were started by the girls' parents on Sunday which marked a year since the Palakkad POCSO court issued the final verdict in the case, setting free all the accused in the case, citing lack of evidence. The victims' parents demand is for a court-monitored investigation into the case. They also said that they will continue their struggle until justice is not served to them.
The chief minister's assurance that the government will stand with them, has ended in vain. The parents also alleged that giving promotion to DYSP Sojan, the chief of the probe team which investigated the case, against whom a judicial panel has recommended taking action for committing serious lapses in the investigation, is a clear attempt to sabotage the case itself. The parents' struggle comes at a time when the government's appeal against the POCSO court's verdict will be taken up by the high court next week.