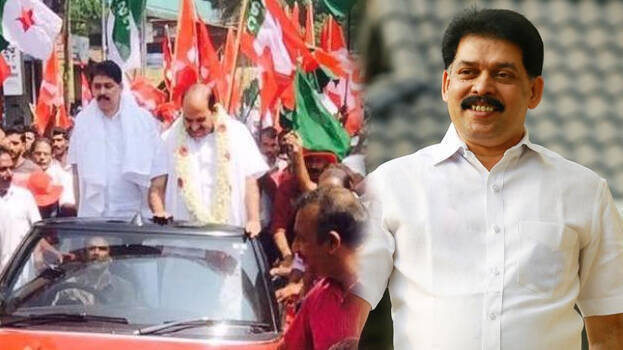 THIRUVANANTHAPURAM: The latest testimony in the gold smuggling case which has revealed the role of left-wing MLA(CPM independent), Karat Rasaq, has put the government and CPM under pressure. Karat Razaq's role is revealed in the testimony given by Sandeep Nair's wife Sowmya. Razaq responds to Kerala Kaumudi online in the midst of political conspiracies.
The testimony given by Sandeep Nair's wife against you is of very serious nature. Are you prepared to fight against it both legally and politically?
I am currently fighting against it politically. LDF protest programmes have been started in Koduvally constituency and more such protest will be conducted by the party after consulting with leaders. I am studying the issue legally and subsequent action will be only taken after getting due legal advice.
You have secured a massive and unexpected victory in the previous polls and you have also said that the present controversy is intended to target you. But whom do you think is behind this?
It is a partnership business between Muslim League & BJP and they are trying to attack me from all corners. Not only allegations they have also tried to kill me. I had to take police security many times. League will never leave any stone unturned to destroy me along with BJP's help. There is a threat to my life since the time I decided to contest in elections.
Don't you think that these allegations will affect your political future and your prospects in elections?
I believe that I can win next time from Koduvally and League is afraid of my popularity. They think I will again take away League's fort and that is the reason behind the present allegations.
These controversies started with Karat Faisal and you have denied having any relationship with him, but still, do you have any links with him?
He is the councillor of Kaoduvally Municipality and our homes are also in the same ward. Naturally, there will be a relation between us as both of us are from Koduvally. Even when I was a part of League, Faisal was a Left councillor. Every MLA is bound to know the councillors and other representatives of the people from his constituency. But I don't intervene in his personal issues. There are many Karats in national and state politics and all of them are not my relatives.

You complain against the League but Pinarayi's police still have not taken the testimony of M C Kamaruddin, who is an accused in more than 80 cases. BJP is saying quite contrary to your opinion. They say there is an unholy nexus between CPM and League
Police have already grilled the chairman of the jewellery. From the media, I came to know that the MLA will be grilled by the police as part of the second phase of the investigation. Police will continue the probe and there is no League-CPM nexus.
On the basis of testimony, more measures might be taken against you by the central agencies. They might even charge sheet you.
If my name is mentioned in the charge sheet then I will resign. As an MLA, I should not get involved in any seditious activity against the country. But this is a baseless allegation against me. The current testimony is given by the wife of the accused and no other persons involved in the case has not made any testimony against me and there is no relation between me and the other accused to make such a statement. No probe agency can frame me if an honest investigation is made and thus such a case will not stand against me.
Do you think central agencies will make an honest probe?
There is no need to suspect the central agencies.
CPM's polit bureau has opposed CBI probes
Polit bureau has only opposed CBI taking up investigation of the cases in a suo moto manner. They have taken up investigation of many cases without the nod of state government or court. Whereas in gold smuggling case any central agency can start the investigation and their probe will be truthful.