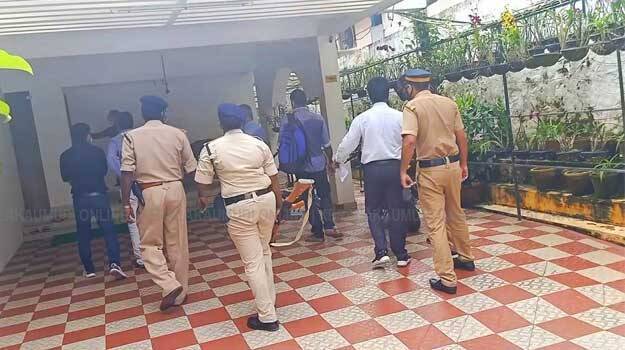 THIRUVANANTHAPURAM: The Enforcement Directorate (ED) has reached Bineesh Kodiyeri's house to conduct a raid in the Bengaluru drug case. The officials of the ED reached his house at 'Kodiyeri' the house at Koottamvila in Maruthamkuzhy. The Karnataka police and the CRPF have accompanied them.
CPM state secretary Kodiyeri Balakrishnan and his wife are not in this house. Soon after Bineesh was arrested in the drug case, they had shifted to the flat, owned by the CPM opposite to AKG Centre.
Bineesh is suspected of laundering black money of 5.17 crore from 2012 to 2019. The eight-member team from Bengaluru wants to collect the documents of it from banks and to raid the houses and firms of Bineesh and his partners. The team reached the capital city yesterday. Officials of the income tax department are also in the team. As Bineesh had not divulged about his benami dealings, the ED may take steps to confiscate his property.
Police tightened security at Bineesh's house soon after the news of the raid came. A raid will be conducted at the house and firms of Abdul Latheef, found to be the benami of Bineesh. The ED is probing whether the Old Coffee House in Shanmugham, UAFX solutions in charge of visa stamp dealings of UAE Consulate, Car Palace in Kesavadasapuram, Capito Lights and K K Rocks Quarry are his benami companies.

The remand report of the ED produced in the court mentioned that he collected Rs 5.17 crore through drug dealings. This is not matching with the figures given by Bineesh to the Income Tax Department. A new case may be filed against Bineesh for income tax evasion. The returns filed every year varied by an average of over Rs 40 lakh. The report of the ED after examining the bank transaction records was submitted in the court. The Income Tax officials went to the ED office and had collected the information.

Bineesh is a regular offender: ED
The report of the ED stated that Bineesh used to consume drugs, and is a regular offender with ten cases in Kerala and one in Dubai, and a seller of drugs. He had started two benami companies in Kerala and outside. The companies are in the name of Muhammed Anoop, arrested in drug case and Rijesh Raveendran.

Lawyer meets Bineesh
The ED did not permit his lawyer to meet Bineesh. They directed him to produce the Covid test result. Later permitted him to meet Bineesh for 15 minutes.