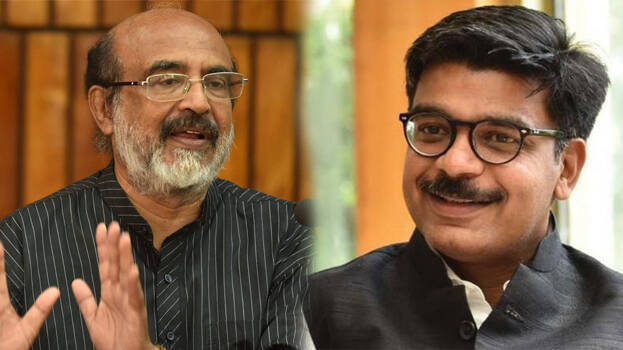 THIRUVANANTHAPURAM: Verbal spat erupted between finance minister Thomas Issac and KPCC secretary Mathew Kuzahalnadan over CAG report on KIIFB. The finance minister who said that Mathew Kuzhalnadan has become the legal counsel of BJP and asked whether Congress need such a person. The finance minister also alleged that the nod for moves against KIIFB was given by RSS leader Ram Madhav.
A political conspiracy was hatched against KIIFB. The discussion for the plan was hatched in Rama Nilayam. Everything is clearly mentioned in the law passed for KIIFB. Ranjith Karthikeyan and Mathew Kuzhalnadan held talks. Swadeshi Jagran Manch is the part of RSS and Mathew Kuzhalnadan is appearing in various courts for their cases.
Kuzhalnadan must reveal which organisation in Delhi has filed the complaint against KIIFB. The original complaint was given on the directions of Ram Madhav. This conflict is about the powers of the state and that is why CPM is turning against the central probe agencies.
CAG says that KIIFB cannot take loans either externally or internally. The opposition must say whether they concur with the stand of the CAG. Oommen Chandy has never opposed the loans received via KIIFB but Chennithala is opposing it. The opposition leader has gone mad in his quest for power. He also opined that opposition leader should stop the shadow game and must respond to his questions.
The loans have been taken with the prior approval of RBI and SEBI. CAG is not trying to understand it. This government is not afraid to tackle this crisis legally and if needed it would be also dealt with politically. The government will give advertisements on KIIFB and are spending enough for that purpose. It's the channels who should decide whether they need it or not. If its a paid news you(media) shouldn't have given those ads. He also asked press persons whether they were compelled to take KIIFB's ads.
Meanwhile, KPCC general secretary Mathew Kuzhalnadan has said that if the finance minister can prove his links with any BJP leader then he will end his political career. The government is responsible to fulfil the liabilities created by KIIFB and the narrative of Issac which stands against it, is for misleading the masses. He also said that he will not withdraw from the position of legal counsel in the case against KIIFB and he also added that he is ready for a public debate with Thomas Issac on this issue.