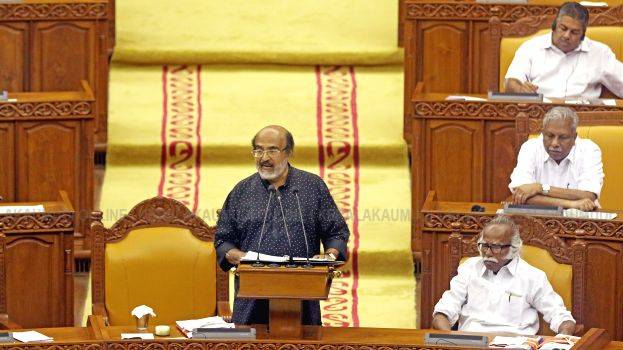 THIRUVANANTHAPURAM: Finance Minister Dr. T.M. Thomas Isaac presented the budget by quoting renaissance leaders like Sree Narayana Guru and Mahakavi Kumaran Asan at several instances.
The second passage of budget speech started by quoting Sree Narayana Guru's vision: "The genus of every human is the same even if the religion, outfit, and language are different".
"Renaissance improved Keralites and helped in the progression of the state. That's why Gurudevan urged Mahakavi Kumaran Asan to start a tile company and made his disciple C.R. Kesavan start a soap company so that people practice cleanliness. Guru also said about the importance of educational institutions over religious centers. Other renaissance leaders followed Guru's vision of building educational centers", Thomas Isaac said.
"While rebuilding Kerala such values should be in our mind. But we saw a section of the society trying to break the harmony of our people which helped us overcome the floods. The government implemented the SC verdict at Sabarimala to ensure equality in the society. Some people saw this as an opportunity to create communal divide", Thomas Isaac added.
Thomas then quoted Mahakavi Kumaran Asan's lines from the poem 'Simha Nadham'. "This year marks the 100th anniversary of the publication of 'Chinthavishtaya Seetha'-an all-time epic from Kumaran Asan. I salute the greatest Malayalam litterateur of the 20th century, the founder secretary of SNDP and efficient businessman on this occasion", Thomas Issac said.
The cover of the budget book was a representation of Mahatma Ayyankali's fights for the education of people belonging to the lower caste.
Budget presentation of Thomas Isaac ended with another quote from Kumara Asan's poem 'Duravastha' which is filled with revolutionary spirit.