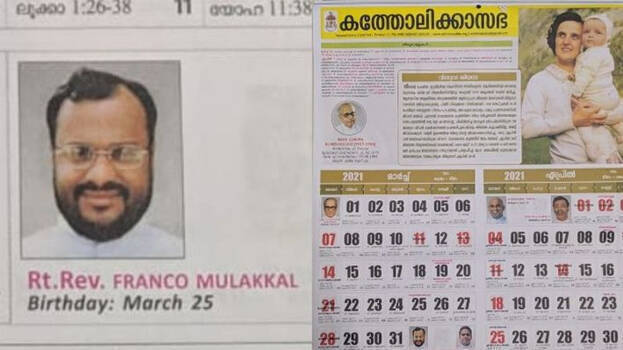 THRISSUR: Catholic church publishes accused in nun rape case—Franco Mulakkal's photo in their calendar. The calendar published by the Thrissur dioceses of Kerala catholic church has published the tainted Bishop's photo in their calendar. Along with his photo, his birth date is also given in the calendar.
The controversial bishop's photo is given in the month of March in the calendar. In the footnote given below his photo, it is written that his birthday is on 25th March. Even though the page of the calendar where bête noire bishop's image is given has gone viral in social media, the church has said that there is nothing unusual in it.
The church said that inclusion of the high priest in the church's calendar is a very usual practise. The church also justifies by saying that Franco still continues in the position of Bishop and the accusations against him have not been proved in the court.