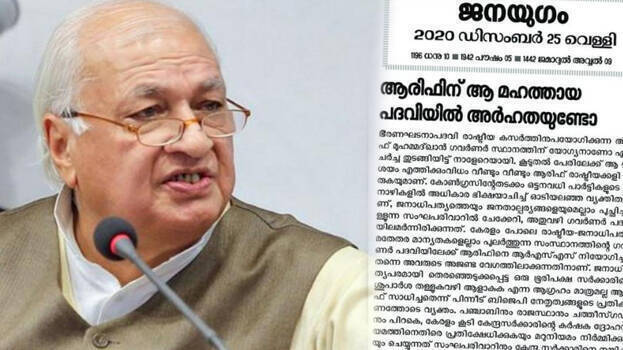 THIRUVANANTHAPURAM: CPI's mouthpiece Janayugam has lashed out at Governor Arif Mohammad Khan for refusing permission for convening a special session of the Kerala assembly. Janayugam stated that Governor Arif Mohammad Khan was a person who begged for power from political parties and he was appointed in Kerala by the RSS to implement their agenda easily.
According to Janayugam, the RSS appointed Arif Mohammad as the governor of a secular state like Kerala in order to speed up their agenda. In a democracy, states have the power to oppose and respond against a law that is unconstitutionally passed by Parliament. The state government's intention was to present the sentiments of the people of the state in the Assembly as a resolution against the contentious farm laws. Both the government and the opposition had unanimously decided to pass the resolution.
The Cabinet meeting on December 21 had recommended to the Governor for permission to convene an hour-long meeting on December 23. But the governor did not approve of this. Janayugam pointed out that although the power to convene a meeting is vested in the Governor, he must act on the advice of the elected cabinet.
The governor can exercise his discretion only in special circumstances, as members of the legislature lose faith in the cabinet. Since the situation in Kerala is different from this, the Governor's job is to convene the legislature on the recommendation of a cabinet that enjoys a majority.
The cabinet has once again handed over a recommendation to convene a special assembly session on the 31st of this month to discuss the agricultural laws. CPI warns that Kerala will unanimously decide to pass a resolution to recall Arif Mohammad Khan from the post of Governor if he continues with his stand.