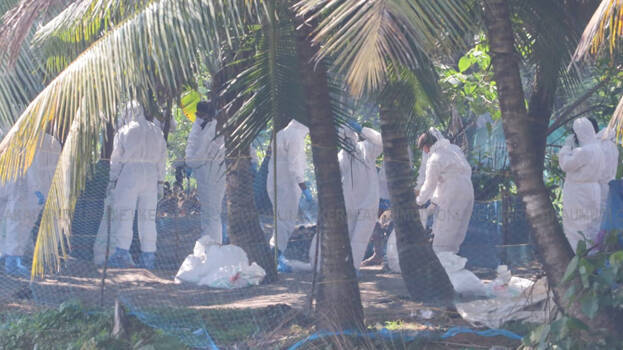 ALAPPUZHA: The government declared bird flu as a state calamity. The government's decision came after high alert was issued in Kottayam and Alappuzha districts. The state will be on high alert. Bird flu was confirmed after samples of the ducks that died in some parts of the two districts were examined.
The bird flu was confirmed in Nedumudi, Karuvatta, Thakazhi and Pallipad panchayats of Alappuzha and in the 14th ward of Kottayam Neendoor panchayat. As part of preventive measures, 34602 birds will be culled in Alappuzha and 3,000 in Kottayam.
In addition to the ducks on farms where bird flu has been detected, a decision has been taken to kill domestic birds coming under one-kilometre radius. The district administration has deployed rapid response force for this. The action will be taken as per the guidelines of the centre.
The government has directed to be cautious even after the virus is unlikely to spread to humans. The health department is conducting a survey to determine if people living in areas where the disease has been confirmed have fever or any other complications.
In Kuttanad and Karthikappally taluks of Alappuzha, the sale of duck, chicken and quail meat and eggs for manure has been stopped. Meantime, Kerala Poultry Federation state committee urged the government to take steps to relieve the concerns of the people on bird flu.