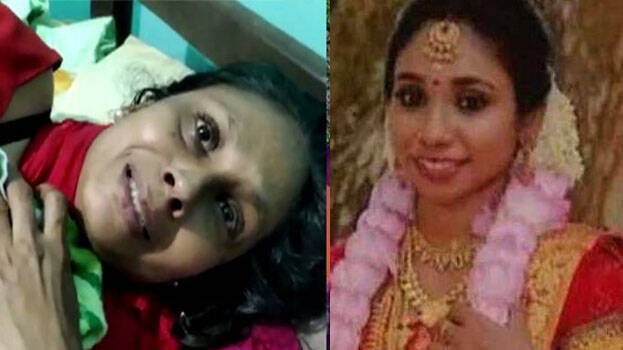 THIRUVANANTHAPURAM: Family alleged mystery after a bride was found dead with her throat slit and wrists cut at the groom's house in Kallambalam. 24-year-old Athira was found dead on Friday noon. Her husband Sharath's family also alleged possibility of murder. Police suspect it as a case of suicide.
Athira, daughter of Shaji and Sreena of Vennicode in Varkala and wife of Sharath of Muthana was found dead in the bathroom of her husband's residence in Kallambalam. The couple got married on November 30 in 2020. There were injuries on her neck and wrists.
Police suspect it as a case of suicide as there were no signs of force on the body. The doctor who conducted the post mortem said the injuries on her neck and writs were incurred by a knife. A knife has been found from the bathroom which was locked from inside. There was no one at home at the time the incident suspected to be happened.
However her mother said that her daughter will not commit suicide. She is scared of blood. She is not even able to remove a thorn pricked. Her father had lodged a complaint at the Varkala police alleging that his daughter cannot do this act alone and alleged mystery. Her mother-in-law had harassed her, he mentioned in the complaint.
Sharath and his father had gone to the hospital in Kollam Friday morning. His mother went for work. When Athira's mother and brother came home to meet her, she could not see anyone in the house. So she waited for Sharath to come. On returning, Sharath started searching for her and found the bathroom locked from inside. He broke the door open and found her lying in a pool of blood.
Even when the police say it is a case of suicide, the police is not sure what the reason is. No hints were obtained even after taking the statements of her husband and relatives.
The dog squad and fingerprint experts examined the crime spot and collected samples. After post-mortem, the body was cremated at her family house in the evening.